TO MY READERS: HOW TO USE THE BLOG
Click Here
---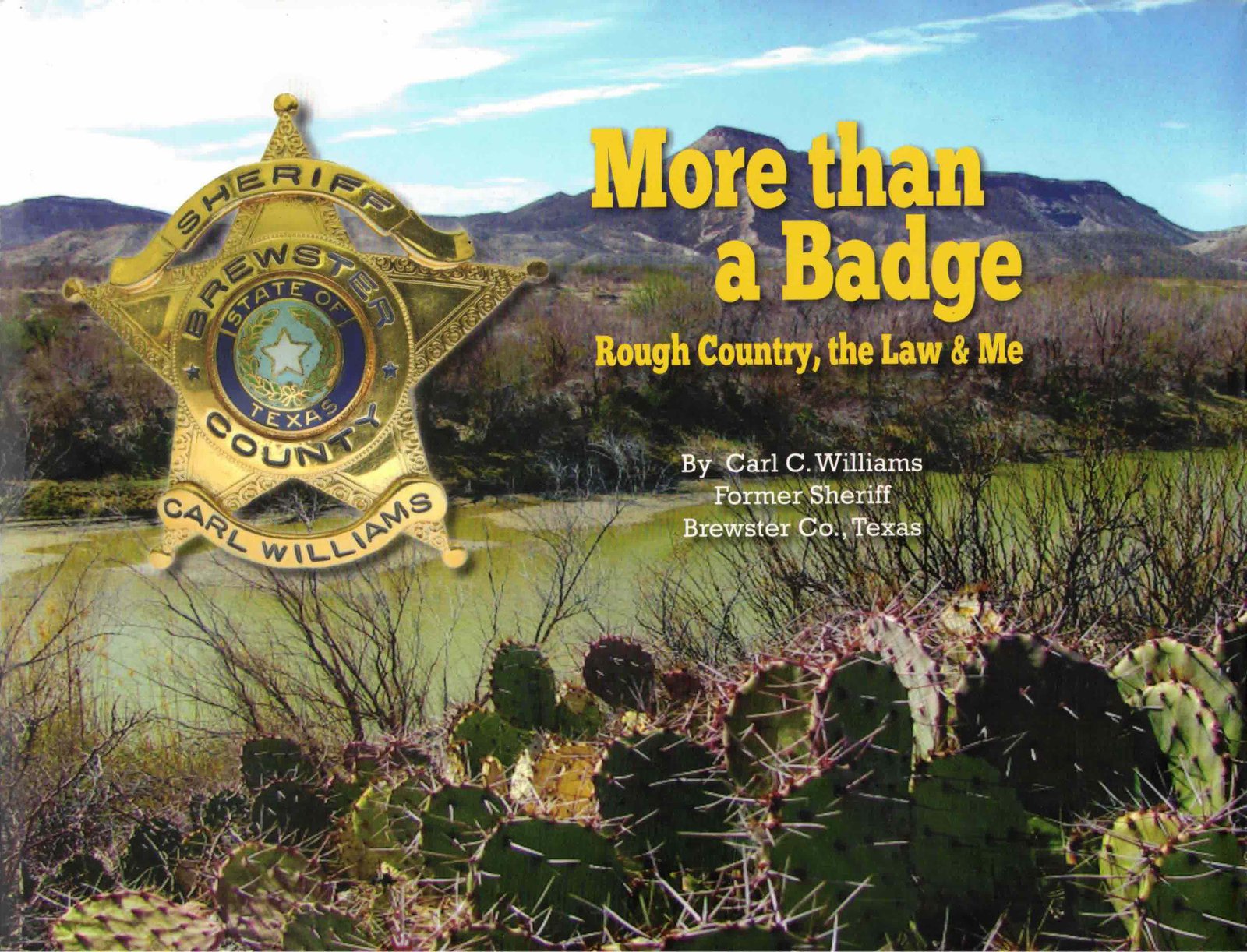 Former Brewster County Sheriff Carl C. Williams has published a remarkable collection of far west Texas stories and memories of people knew in his lifelong law enforcement and photographic careers. Born in Marfa in 1934, Williams grew up in the Texas Big Bend. After graduation from Fabens High School, Carl enrolled at Sul Ross in Alpine. While in Alpine Williams apprenticed under several professional photographers including the master of Big Bend photography Wilfred Dudley Smithers. Carl did darkroom work for Smithers including helping make the Smithers lamps with their beautiful hand-colored shades of Big Bend ranching scenes. When Smithers sold his lifetime photo collection to the University of Texas Austin, Carl helped sort and label the hundreds of negatives and glass plates. Before graduating from the university, Carl was the official Sul Ross photographer.
Carl's father, a River Guard and U.S. Customs inspector, deputy
sheriff, and merchant encouraged his son to enter law enforcement. In 1955, Carl was sworn in as a deputy with the El Paso Sheriff's office and worked for a time based in Fabens. Then he joined the Texas Highway Patrol graduating in 1957 from the Texas DPS Service Training School in Austin. The DPS assigned him to Van Horn then transferred him to Alpine​ because he knew the Big Bend well being born and raised there.
In 1964 Williams was elected Sheriff of Brewster County.
More Than a Badge contains a wealth of far West Texas history from
the viewpoint of a highly respected lawman. It is a good read, deserving a place in any Big Bend library. The book has an excellent index as well as hundreds of fine historic photos many of them done by Williams over the years. It also contains a history of the Brewster County Sheriff's Office along with interesting short biographies of Texas lawmen in its 533 pages. For more information or to order the book see:
https://www.amazon.com/More-Than-Badge-Carl-Williams/dp/099097
Glenn Justice
[ view entry ]
( 854 views ) |
permalink
|





( 3.1 / 396158 )
---
http://www.thc.texas.gov/blog/rememberi ... pKqMd0mgUM
[ view entry ]
( 2826 views ) |
permalink
|





( 2.9 / 29847 )
---
Award-winning author Bob Alexander presents a biography of 20th-century Ranger Captain Jack Dean, who holds the distinction of being one of only five men to serve in both the Officer's Corps of the Rangers and also as a President-appointed United States Marshal.
Jack Dean's service in Texas Ranger history occurred at a time when the institution was undergoing a philosophical revamping and restructuring, all hastened by America's Civil Rights Movement, landmark decisions handed down by the United States Supreme Court, zooming advances in forensic technology, and focused efforts designed to diversify and professionalize the Rangers. His job choice caused him to circulate in the duplicitous underworld of dishonesty and criminality where twisted self-interest overrode compliance with societal norms. His biography is packed with true-crime calamities: double murders, single murders, negligent homicides, suicides, jailbreaks, manhunts, armed robberies and home invasions, kidnappings, public corruption, sexual assaults, illicit gambling, car-theft rings, dope smuggling, and arms trafficking.
"Bob Alexander personally interviewed Jack Dean, a renowned Texas lawman who wore a badge for forty-three years. These conversations form the core of a well-researched and fascinating account of Lone Star justice from the mid-twentieth century into the new millennium." —Darren L. Ivey, author of The Ranger Ideal, Volumes 1 and 2
About Author:
BOB ALEXANDER is the co-author of Texas Rangers and author of Rawhide Ranger, Ira Aten; Whiskey River Ranger; Six-Shooters and Shifting Sands; Bad Company and Burnt Powder; Riding Lucifer's Line; and Winchester Warriors, all published by UNT Press. He lives in Maypearl, Texas.
[ view entry ]
( 2959 views ) |
permalink
|





( 3 / 108357 )
---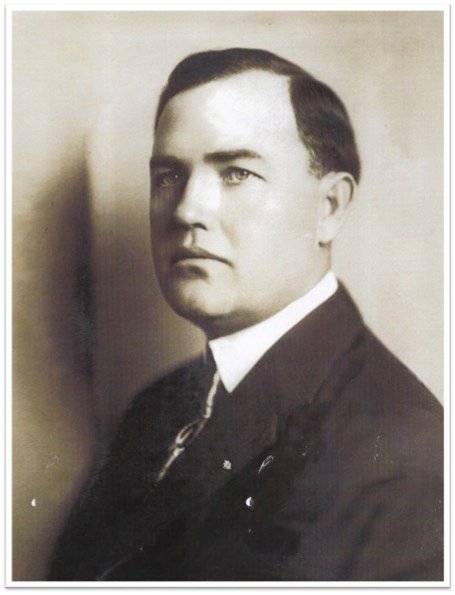 Arvel Rodolphus Ponton Sr. was born January 1, 1885 in Fairfax, Oklahoma. He attended the University of Oklahoma, where as a tall, strong, and athletic young man, he became the starting quarterback for the school's prestigious football team. Following his undergraduate studies, Arvel Ponton struck out for the University of Kansas Medical School and received his medical degree in 1907. As a now-official doctor, he then studied surgery at the Mayo Clinic, and by March of 1908, was admitted to practice medicine in the State of Texas. From this new home, Dr. Ponton would go on to become a pioneering medical professional considered to be the "father of medicine in the Texas South Plains."
Ponton's initial stop in the state would be Copperas Cove in Coryell County, moving there after learning that an older and unrelated Dr. Ponton practiced medicine in the town. The young and clever Dr. Ponton believed that potential confusion between the two Ponton doctors might work to his advantage and bring him a few patients as a good start to his medical practice. There, Dr. Ponton received his first big break after being called out to a simple dugout home where a poor worried couple's newborn child had just been given up on by the other Dr. Ponton as a hopeless cause. The baby was yellow, jaundiced, swollen, and crying out in distress. With no diagnosis or cure for their ailing child, the parents were losing faith. However, by the dim light of a coal-oil lantern, Dr. Ponton soon realized that the baby boy's foreskin was unopened leaving the child unable to urinate. Quick thinking from Dr. Ponton led to a simple, elegant solution: grab a razor and remove the foreskin. As soon as the straightforward procedure was complete, the relieved baby cried out in happiness before bringing laughter to all present when the child proceeded to pee on his grandmother as the doctor held up the baby. Thereafter, the young Dr. Ponton was well on his way to a successful medical career, and news of the town's talented new doctor spread. Soon, patients throughout Coryell County were lining up to seek out the young Dr. Ponton's services.
Dr. Ponton's next big break came when the Santa Fe Railroad arrived in Copperas Cove, and the Rail Line liked Dr. Ponton enough to hire him as the company doctor for the region. This new career required Dr. Ponton to travel along the Santa Fe Line as it expanded, eventually leading the doctor in 1910 to Garza County's Post City, where two years earlier, C. W. Post, of cereal grain fame, had started building his namesake town. With the railroad's arrival there, Dr.Ponton settled into the town and soon became acquainted with C.W. Post. The doctor impressed all, and Post City's town board went on to hire Ponton as doctor for the Post Company (then known as the Double U Company), while Ponton maintained his Santa Fe Railroad position too.
With the town booming, by 1911, C.W. Post and Dr. Ponton began to conceive of a sanitarium (hospital) to take care of the health needs of both the townspeople and surrounding population, so the pair broke ground on what would be the first modern hospital on the Texas South Plains—the Post Sanitarium. To achieve the level of care desired, Dr. Ponton, who was able to begin using the space for patient operations in the spring of 1913, erected a large and suitably equipped two-story building in the middle of town. In addition, Dr. Ponton—well aware of the need for quality nursing staff to support the Sanitarium—founded a nursing school at the hospital too. And with everything in place, the Sanitarium's reputation quickly soared, as Post Company managers noted in 1914: "The sanitarium is one of the best drawing cards we have at the present for the town. People are coming in from neighboring counties for treatment."
Dr. Ponton was not without enemies however. In 1913, Post's local troublemaker, C.C. Woods, the Double U Company veterinarian, took a disliking to the Doctor. Woods had heard that Dr. Ponton made some disparaging remarks about him, and Woods demanded an explanation. In response, Dr. Ponton told the veterinarian to come into town and confront the situation face to face. Woods arrived armed with a 30-30 Winchester and met Dr. Ponton in front of Warren's Drug Store. Woods leveled the rifle at the doctor and asked if he was ready to settle their differences. Dr. Ponton replied by knocking the gun out of Woods' hands and beating the veternarian until Sheriff Kelly came along to separate the two. Soon thereafter, Ponton and the town board quickly found that Post city had no more room in it for Woods.
Things went well for Dr. Ponton and the Post Sanitarium until 1917. Between a drought slowing down business in Post, and the war in Europe taking away all the doctors hired for the hospital, Dr. Ponton found the going a little too rough, so he decided to sell back the sanitarium to the Double U Company and moved up the Santa Fe Railroad Line to the now bustling city of Lubbock. There, Dr. Ponton knew that Lubbock, like Post City before it, needed a first-class hospital.
What was later to become Lubbock's Methodist Hospital had its beginnings in 1917, when three physicians, including the newly arrived Dr. Ponton, banded together to found a second hospital in the city, the Lubbock Sanitarium. To fund purchase of the hospital's land, construction and medical equipment, Dr. Ponton underwrote one-half of the original $100,000 capital stock required; one-fourth was supplied by Dr. O.F. Peebler, a general medicine and obstetrics physician who had arrived from Fairfield, Iowa in 1909; while the remaining $25,000 was provided by Dr. J.T. Hutchinson—an eye, ear, nose and throat specialist with an educational background that included Tulane, Harvard and the University of Pennsylvania.
Construction of the 25-bed hospital started in 1917 at the 1300 block of Lubbock's bustling Broadway thoroughfare on a 125 x 175-foot space that left the sanitarium's first floor partially underground, and in short order, by early January 1918, patients began to be admitted (local M.M. Coleman is said to have been the first). During that inaugural year, the patient total was an admirable 551 individuals, and the staff, besides the three founding physicians, consisted of one graduate nurse, ten student nurses, the business manager, a cook and a janitor. The growing need for nurses at the new Lubbock site had prompted Dr. Ponton to move his nurses' training school from Post to the Lubbock Sanitarium, and ten nursing students entered the first class. The nursing program at the Sanitarium grew into the still-thriving Covenant School of Nursing, while Lubbock Sanitarium eventually became Lubbock General Hospital, Memorial Hospital, and then Methodist Hospital, now known as Covenant Hospital.
Dr. Ponton's legacy at the hospital lead to an interesting interfamilial twist of fate. It begins in 1919, when a young Dr. J.T. Krueger moved to Lubbock and trained as a surgeon at the hospital under Dr. Ponton, so when Dr. Ponton decided to move to the big city in Fort Worth a year later, he sold his interest in the Sanitarium to Krueger, who took over Dr. Ponton's Chief Surgeon role at the site. Years later, Dr. Ponton's son, Arvel Ponton Jr., would also go on to become a doctor and eventually returned to Lubbock himself following service as a World War II combat surgeon in Burma. In Lubbock, Dr. Ponton Jr. would end up completing a surgical residency at Methodist Hospital from 1946-1948 under Dr. Krueger—the very same surgeon Dr. Ponton Sr. had trained there decades earlier.
In many realms, Dr. Ponton, himself a character and full of talent, was duly deserving of the cliched "larger than life" title. He was an avid sportsman and early car buff. He once answered a patient call to Lamesa from Post, driving there under a hard rain in a fender-less, topless Ford "Tin Henry" car. Returning with both himself and the car covered in mud, he vowed to make all future trips by horsepower instead. And in another illustration of his zest for life, he later went on a hunting trip with Dr. A. C. Surman of Post in a newer car, his "32" Hupmobile, and sighted a herd of antelope, which the pair overtook, allowing Dr. Surman to shoot two of the animals from the moving car to great excitement.
When Dr. Ponton left Lubbock in 1920 for Fort Worth, he opened the Ponton Clinic where he continued to practice until his death in 1944. He also built and operated Protestant Hospital in Fort Worth for ten years, which was later sold and became the Baptist Hospital (later Methodist Hospital). Dr. Ponton also operated the Denton Hospital-Clinic for 13 years, the Edinburg Hospital for ten years, and yet another clinic and hospital in Brownwood. As an avid pilot, he sometimes flew his own plane to attend to patients in Denton, Fort Worth and Edinburg all on the same day. He also owned and supervised the Ponton Ranch near Fort Worth and was an active Mason. Dr. Ponton's death in 1944 was untimely: the result of a fall while riding a horse on his ranch. He was only 59. Dr. Ponton Sr. had a daughter and son, Dr. Arvel Ponton Jr., who practiced medicine in Ft. Worth (1950-1957) and Alpine (1958- 1995). His grandchildren are now spread across the state, from Alpine to Fort Worth, and are raising families of their own.
Dr. Arvel Ponton Sr. is a true Texas pioneer and the founder of the first two hospitals in the Texas South Plains: The Post Sanitarium and the Lubbock Sanitarium. His legacy lives on with the hospitals in Lubbock and Fort Worth continuing to operate to this day, along with the nursing school he founded in Lubbock.
--Arvel Rodolphus Ponton III
November 2018
[ view entry ]
( 3249 views ) |
permalink
|





( 3 / 190385 )
---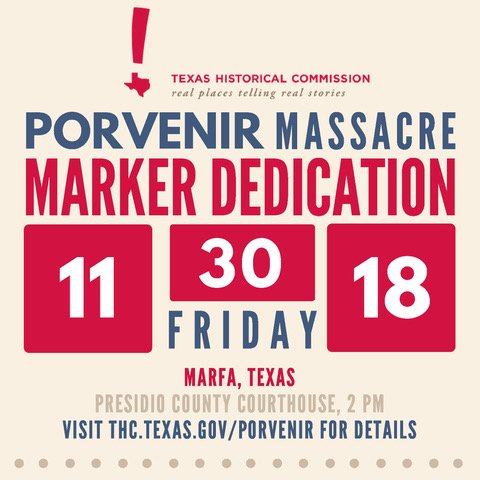 The Texas Historical Commission has announced the Porvenir Massacre marker dedication ceremony will take place at the Presidio County Courthouse on November 30, 2018 at 2 p.m. Everyone is invited to this public event.
http://www.thc.texas.gov/news-events/ev ... dedication
Gj
[ view entry ]
( 3113 views ) |
permalink
|





( 3 / 190663 )
---
https://tshaonline.org/handbook/online/articles/hrp87
Pilares is an obscure Mexican border village located not far from Porvenir, Texas across the Rio Grande in far Northwest Presidio County. Pilares is and always has been a Mexican border village and was never located in Texas. However, John Earnest Gregg wrote in his 1933 University of Texas master's thesis that Pilares was located on the Texas side of the border in Presidio County. The error has been repeated over and over and continues even today continues to be published in a Handbook article.
And while this and other factual errors continue on the Handbook has finally updated their article about the Porvenir massacre. I wrote the first Porvenir massacre article many years ago. However the Handbook editors at the time simply did not believe the real story of the massacre and had another staffer rewrite my article heavily relying on Walter Prescott Webb's version in his famous Texas Ranger book. This came as no surprise since Prescott Webb created and edited the first Handbook of Texas. As a young professor Webb spent a couple of weeks in Marfa and interviewed some of the same Texas Rangers who actually took part in the Porvenir massacre. They told him the story they wanted to world to know. This is where Webb's version of the Porvenir massacre that lived on for many years originated. According to the Webb version of what happened at Porvenir a group of Captain Fox's Company B Rangers went to Porvenir "looking for bandits" and after searching the jacales in Porvenir came under fire from unknown persons in the bushes. The rangers shot back not knowing if they hit anyone but the next morning found the bodies of the fifteen men and boys who had been shot. This, of course, is not what happened that awful night but for many years was the "accepted" history. Shortly before his death in 1963 Professor Webb admitted to some of his colleagues and students that he had been wrong about what happened at Porvenir and needed to revise his famous Texas Ranger book. Unfortunately Webb died in a car wreck a few months later and the revisions he wanted to make did not happen.
See:
http://www.rimrockpress.com/blog/index. ... 422-093645
The real story of the Porvenir massacre has only recently been published by the Handbook of Texas. I cannot honestly say what brought this about. Perhaps the publicity about Porvenir massacre THC Historical Commission caused someone at the Handbook to correct the Webb errors that have for so many years been thought to be infallible and beyond question.
See:
https://tshaonline.org/handbook/online/articles/jcp02
Glenn Justice
[ view entry ]
( 3184 views ) |
permalink
|





( 3 / 86536 )
---
University of North Texas Press announces the July 2018 publication of War in East Texas: Regulators vs. Moderators by Bill O'Neal.From 1840 through 1844 East Texas was wracked by murderous violence between Regulator and Moderator factions. More than thirty men were killed in assassinations,lynchings, ambushes, street fights, and pitched battles.
The sheriff of Harrison County was murdered, and so was the founder of Marshall, as well as a former district judge. Senator Robert Potter, a signer of the Texas Declaration of Independence, was slain by Regulators near his Caddo Lake home. Courts ceased to operate and anarchy reigned in Shelby County, Panola District,
and Harrison County. Only the personal intervention of President Sam Houston and an invasion of the militia of the Republic of Texas halted the bloodletting. The Regulator-Moderator War was the first and largest of the many blood feuds of Texas. Bill O'Neal includes
rosters of names of the Regulator and Moderator factions arranged by the counties in which the individuals were associated, along with a roster of the victims of the war.
"O'Neal has done a very good job of keeping track of the many people who were involved in the complicated series of events of the Regulator-Moderator War. He has also explained the part played by Sam Houston and theTexas Militia in quelling this feud."—Donaly E. Brice, author of The Great Comanche Raid and coauthor of
The Governor's Hounds: The Texas State Police, 1870-1873.
BILL O'NEAL is State Historian of Texas and the author of more than thirty books, including The Johnson-Sims Feud, The Johnson County War (2005 NOLA Book of theYear), Historic Ranches of the Old West, Encyclopedia of Western Gunfighters, and Cheyenne, 1867-1903.
He is retired from teaching at Panola College.
978-1-57441-728-9 paper $18.95
978-1-57441-739-5 ebook
6x9. 206 pp. 43 b&w illus. 2 maps. Notes. Bib. Index.
Texas History.
JULY 15, 2018
Intended audience: adult readers, Texas history scholars,
Texas history enthusiasts
[ view entry ]
( 3401 views ) |
permalink
|





( 3 / 550758 )
---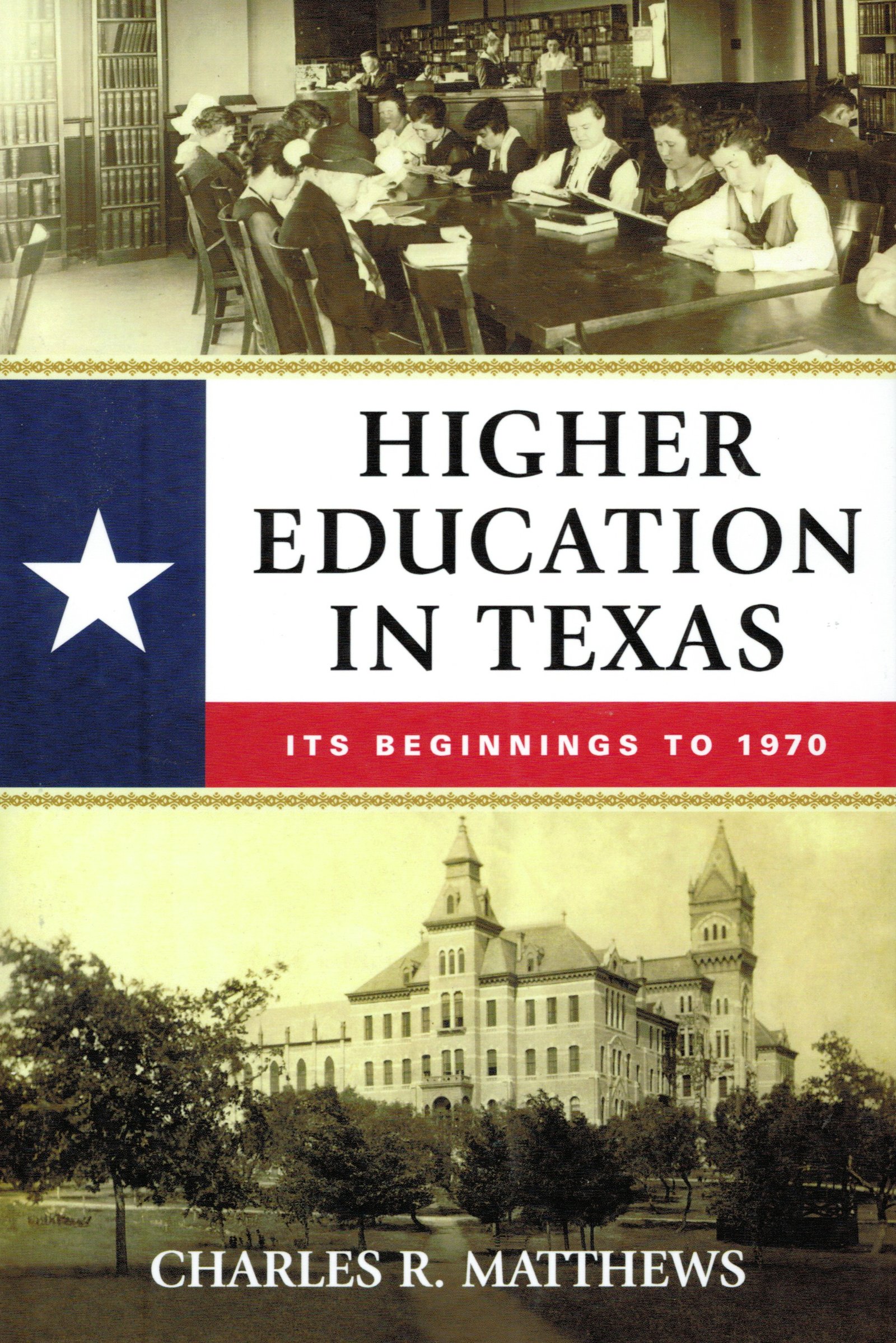 Higher Education in Texas is the first book to tell the history, defining events, and critical participants in the development of higher education in Texas from approximately 1838 to 1970. Charles Matthews, Chancellor Emeritus of the Texas State University System, begins the story with the land grant policies of the Spanish, Mexicans, Republic of Texas, and the State of Texas that led to the growth of Texas. Religious organizations supplied the first of many colleges, years before the Texas Legislature began to fund and support public colleges and universities.
Matthews devotes a chapter to the junior/community colleges and their impact on providing a low-cost education alternative for local students. These community colleges also played a major role in economic development in their communities. Further chapters explore the access and equity in educating women, African Americans, and Hispanics.
CHARLES R. MATTHEWS is Chancellor Emeritus of the Texas State University System, the oldest public university system in Texas. He was chancellor from 2005 until his retirement in 2010. He received his doctoral degree from the University of Texas at Austin in 2006. He lives on his ranch in Hill County.
"This is a strong contribution to the scholarship on Texas higher education." —Matthew Fuller, College of Education, Sam Houston State University
About Author:
CHARLES R. MATTHEWS is Chancellor Emeritus of the Texas State University System, the oldest public university system in Texas. He was chancellor from 2005 until his retirement in 2010. He received his doctoral degree from the University of Texas at Austin in 2006. He lives on his ranch in Hill County.
[ view entry ]
( 3281 views ) |
permalink
|





( 3 / 518185 )
---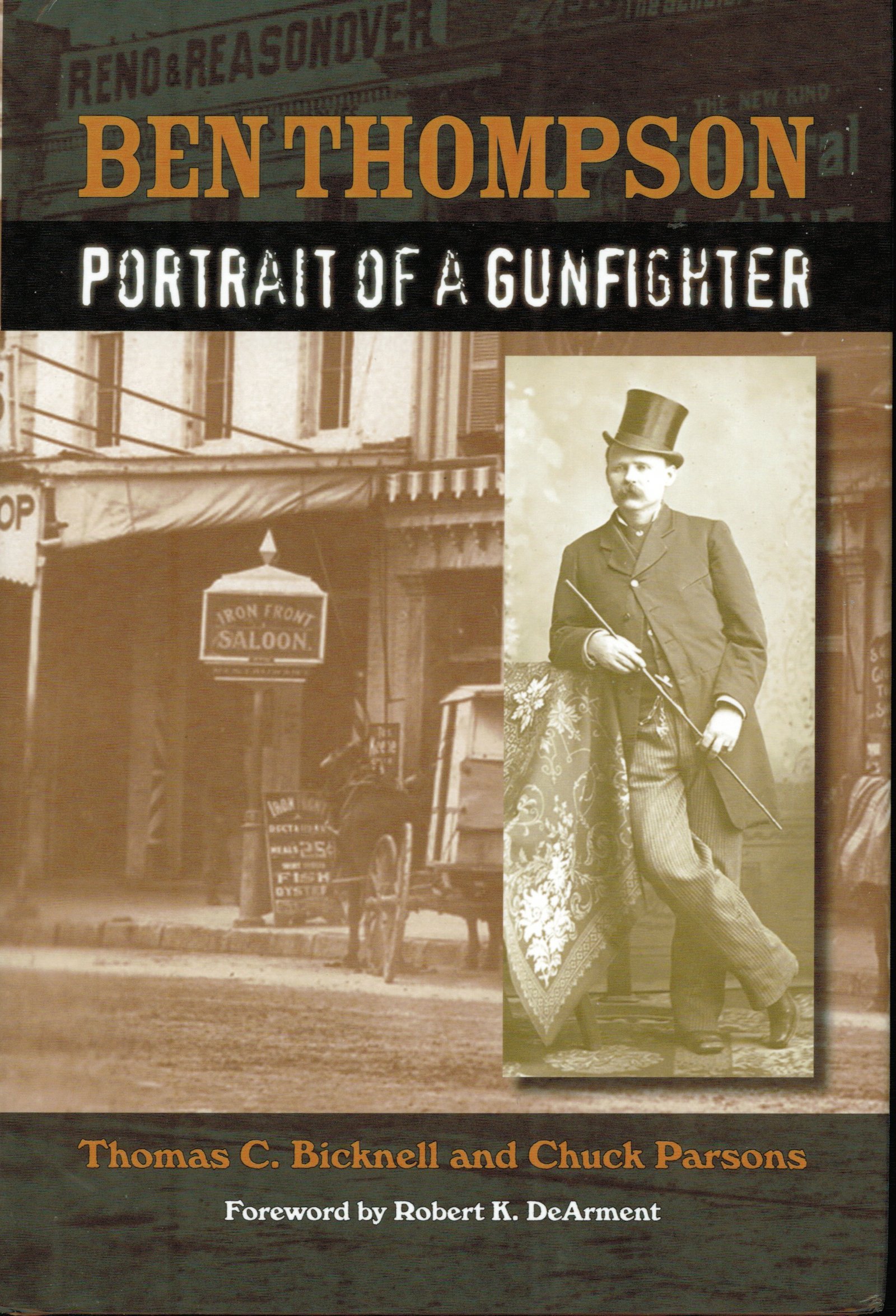 University of North Texas Press announces the August 2018 publication of Ben Thompson: Portrait of a Gunfigher by Thomas C. Bicknell and Chuck Parsons. Ben Thompson was a remarkable man, and few Texans can claim to have crowded more excitement, danger,drama, and tragedy into their lives than he did. He was an Indian fighter, Texas Ranger, Confederate cavalryman, mercenary for a foreign emperor, hired gun for a railroad, an elected lawman, professional gambler, and the victor of numerous gunfights.
As a leading member of the Wild West's sporting element, Ben Thompson spent most of his life moving in the unsavory underbelly of the West: saloons, dance-houses,billiard halls, bordellos, and gambling dens. During these travels many of the Wild West's most famous icons—Wyatt Earp, Doc Holliday, Bat Masterson, Wild Bill
Hickok, John Wesley Hardin, John Ringo, and Buffalo Bill Cody—became acquainted with Ben Thompson. Some of these men called him a friend; others considered him a deadly enemy.
In life and in death no one ever doubted Ben Thompson's courage; one Texas newspaperman asserted he was "perfectly fearless, a perfect lion in nature when aroused." This willingness to trust his life to his expertise with a pistol placed Thompson prominently among the western frontier's most flamboyant breed of men: gunfighters.
Thomas C. Bickwell, a native Chicagoan, has been studying the life of Ben Thompson for decades. His research and articles have appeared in various periodicals including True West and Wild West. Chuck Parsons is the author of Captain John R. Hughes and The Sutton-Taylor Feud and coauthor of A Lawless Breed, a biography of John Wesley Hardin. He lives in Luling, Texas.
978-1-57441-730-2 cloth $34.95
978-1-57441-741-8 ebook
6x9. 688 pp. 47 b&w illus. 3 maps. Notes. Bib. Index.
Texas History. Western History. Biography.
[ view entry ]
( 3174 views ) |
permalink
|





( 3 / 406572 )
---
TO: INTERESTED PARTIES
FROM: MARK WOLFE
DATE: SEPTEMBER 14, 2018
RE: PORVENIR MASSACRE HISTORICAL MARKER
The Texas Historical Commission (THC) has completed work on the text for its marker telling the story of the Porvenir Massacre. THC thanks all of the many individuals and organizations who have expressed an interest in, and participated in the development of, this project. We are particularly grateful for the guidance provided to staff by Commissioner Lilia Marisa Garcia, Professor of History at the University of Texas Rio Grande Valley, appointed by Governor Greg Abbott to the Texas Historical Commission earlier this year as the Commission's official Professional Historian. With her contributions, and thorough research on the part of THC's professional marker staff, we are confident that the text is accurate and ready to be sent to the foundry for casting early next week. On completion, in approximately six weeks, we hope that the various parties of interest will join in dedicating the marker at its permanent location in Presidio County.
Thank you again for your patience. The stories of Texas can be complex. There is much to celebrate, but there is also a darker side to our history, and those stories must also be told. The THC is the only state agency in the country to initiate a process for seeking out these "Undertold" stories and memorializing them at no cost to the state's taxpayers. Since the Undertold Stories program was put into place in 2006, more than 110 markers have been installed, with such themes as Freedom Colonies, education, underrepresented groups, and civil rights. Only by telling these disregarded, or even forgotten, stories can we truly understand the complicated tapestry that is Texas.
We don't take this responsibility lightly. THC markers are made to last many generations, so we take as long as necessary to finalize text. We apologize for any inconvenience that may have caused, but are confident that the end result is a better, more accurate, product.
We continue to welcome comments on this text, or on the text of any of our more than 16,000 markers across this great state. The order will go to the foundry on Tuesday morning, September 18th. Comments should be directed to Charles Sadnick (charles.sadnick@thc.texas.gov).
Thank you again for your interest and participation, and we look forward to working with you on future projects.
Texas Historical Commission staff (BB), 7/17/2015, rev 3/5/2018, 5/17/18, 9/10/18, 9/12/18, 9/13/18:
27" x 42" Official Texas Historical Marker with post
Presidio County (Job #15PS02) Subject (Atlas ) UTM:
Location: US 90, northwest of Marfa
PORVENIR MASSACRE
PORVENIR WAS A COMMUNITY IN REMOTE NORTHWEST PRESIDIO COUNTY ON THE RIO GRANDE. IN THE MIDST OF MILITARY CONFLICTS, INCREASED ETHNIC TENSIONS AND RETALIATORY RAIDS ALONG THE INTERNATIONAL BORDER AND IN THE IMMEDIATE AREA DURING THE MEXICAN REVOLUTION, THE SMALL FARMING AND RANCHING SETTLEMENT WAS THE SITE OF A NOTORIOUS TRAGEDY IN 1918.
A GROUP OF TEXAS RANGERS FROM COMPANY B IN MARFA, U.S. ARMY SOLDIERS FROM TROOP G OF THE 8TH CAVALRY, AND LOCAL RANCHERS ARRIVED AT PORVENIR IN THE EARLY MORNING HOURS OF JANUARY 28, 1918. THEY CAME TO THE RANCH OF MANUEL MORALEZ AND SEPARATED FIFTEEN ABLE-BODIED MEN AND BOYS FROM THE WOMEN, CHILDREN AND ELDERLY MEN. THOUGH INITIAL ACCOUNTS DENIED ANY WRONGDOING, LATER TESTIMONY CONFIRMED THAT THESE 15 VICTIMS WERE SHOT AND KILLED. FAMILY MEMBERS CROSSED THE RIO GRANDE INTO MEXICO TO BURY ANTONIO CASTAÑEDA, LONGINO FLORES, PEDRO HERRERA, VIVIANO HERRERA, SEVERIANO HERRERA, MANUEL MORALEZ, EUTEMIO GONZÁLEZ, AMBROSIO HERNÁNDEZ, ALBERTO GARCÍA, TIBURCIO JÁCQUEZ, RÓMAN NIEVES, SERAPIO JIMÉNEZ, PEDRO JIMÉNEZ, JUAN JIMÉNEZ, AND MACEDONIO HUERTAS.
IN JUNE 1918, GOVERNOR WILLIAM P. HOBBY AND ADJUTANT GENERAL JAMES A. HARLEY DISBANDED COMPANY B, DISMISSED FIVE RANGERS FOR THEIR ACTIONS AT PORVENIR, AND FORCED CAPTAIN J.M. FOX'S RESIGNATION. STATE REPRESENTATIVE J.T. CANALES FILED CHARGES WITH THE TEXAS LEGISLATURE AGAINST THE TEXAS RANGERS, FOR THE OPPRESSION AND MURDER OF HUNDREDS OF HISPANICS ALONG THE RIO GRANDE. AT AN INVESTIGATION BEGINNING JANUARY 31, 1919, LEGISLATORS HEARD AND RECEIVED TESTIMONY REGARDING SEVERAL INCIDENTS INCLUDING PORVENIR. AS A RESULT, THE TEXAS RANGERS WERE REORGANIZED AND REDUCED IN SIZE. IN THE AFTERMATH OF THE ATTACK, APPROXIMATELY 140 REMAINING RESIDENTS OF PORVENIR ABANDONED THE COMMUNITY.
(2015)
MARKER IS PROPERTY OF THE STATE OF TEXAS
[ view entry ]
( 3129 views ) |
permalink
|





( 3.1 / 18242 )
---
| 1 | 2 | 3 | 4 | 5 | 6 | 7 | 8 | 9 | 10 | Next> Last>>