TO MY READERS: HOW TO USE THE BLOG
Click Here
---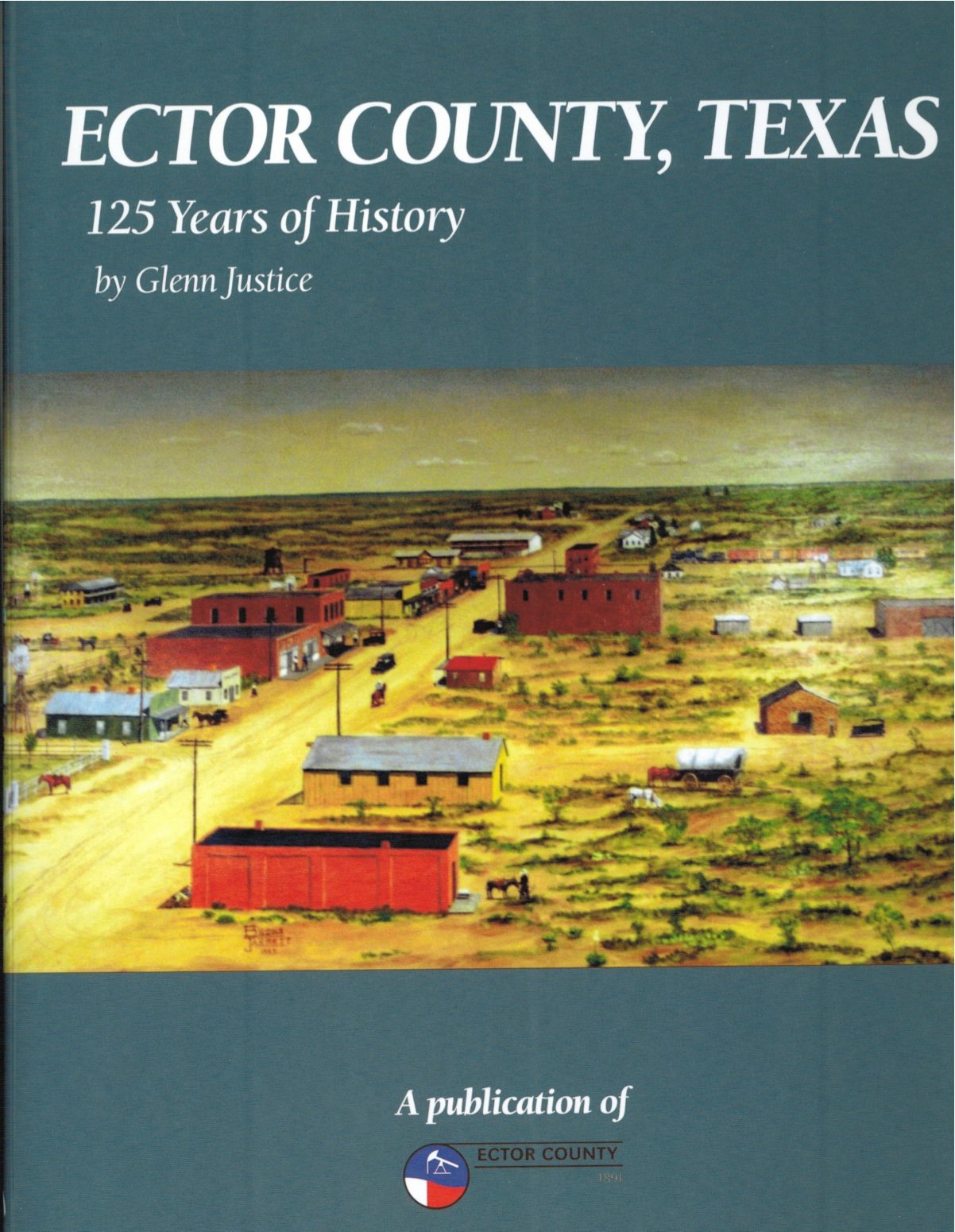 Historical Publishing Network of San Antonio has just gone to press with "Ector County, Texas: 125 Years of History" by Glenn Justice. The book is available at Cactus Book Shop in San Angelo see
www.cactusbookshop.com
and online at
www.rimrockpress.com
just in time for pre-Christmas delivery. Signed and personalized copies are available by request.
The 192-page coffee table sized edition tells the story of Ector County from its earliest days with the July 1881 arrival of Texas and Pacific track construction crews at the site of the future city of Odessa. Known for a time as Milepost 296 somebody named the place Wells Point and a tiny track side tent city got its start. Wells Point became known as Odessa in 1885 when the community got its first post office. In 1891 Ector County became formally organized with the village of Odessa being named the county seat. Odessa existed a small cow town and rail shipping point until 1926 when Josh Cosden struck oil in the western part of the county. From that time until the end of the twentieth century Ector County oil wells have produced some two billion barrels of oil. Ector County, Texas: 125 Years of History chronicles Ector County's fascinating past with superb historic photographs.
I owe a very special thanks to the book's photo editor Martha Edwards of Cinema Station in Odessa for her fine work researching, selecting and captioning the photos for the book. It is an exceptional collection of photos made by master photographers such as Jack Nolan and Bill Shoopman from the archives of the Permian Basin Petroleum Museum. Also, thank you so much to the many Ector County business folks whose support made this book possible. Also, thanks to Dr. Terry Shults at the University of Texas Permian Basin as well as Doris Baker at the Southwest History Department of the Ector County Library.
ISBN# 9781935377580. Free shipping. Justice's hardback edition Ector County history book is $34.95 plus $3.06 Texas sales tax for a total 38.01. If you wish to pay by check make your check for 38.01 payable to Rimrock Press, 14339 Oak Ave., Millersview, Texas 76862. Remember to request any signed or personalized copies with your order. Working to get Papal for credit card or bankcard orders, the page at
www.rimrockpress.com
should have books online in just a few more days.
Order online at
www.rimrockpress.com
or call telephone orders to 325-483-5406.
Gj
[ view entry ]
( 5418 views ) |
permalink
|





( 3 / 50254 )
---
<<First <Back | 5 | 6 | 7 | 8 | 9 | 10 | 11 | 12 | 13 | 14 | Next> Last>>