TO MY READERS: HOW TO USE THE BLOG
Click Here
---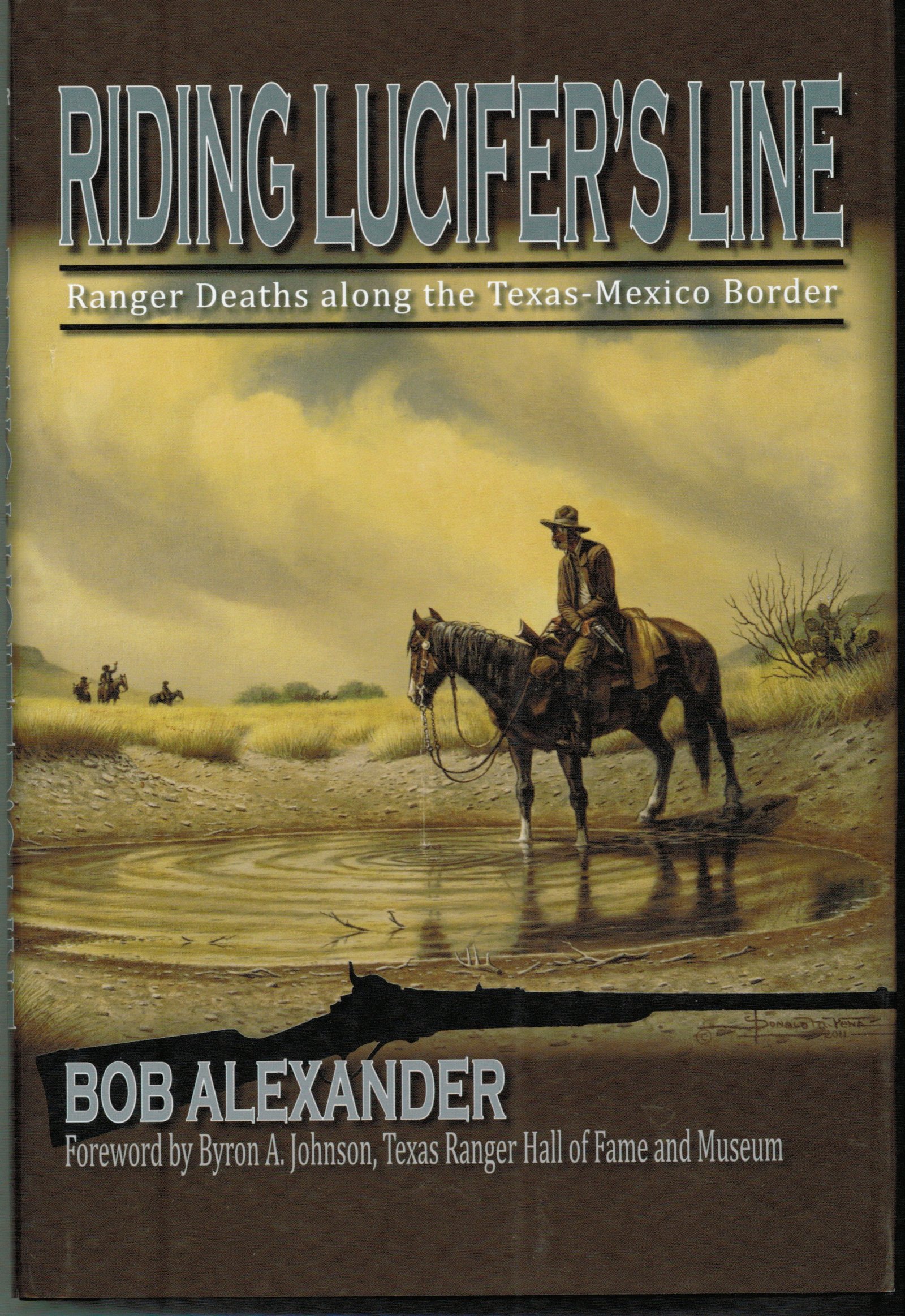 Bob Alexander's "Riding Lucifer's Line" is a well researched collection of twenty-five sketches about Texas Rangers who died by gunshot in the performance of their duties along the Texas-Mexican border between the years 1875-1921. Writing from the knowledgeable perspective of a retired U.S. Government Treasury officer, Alexander undertook a formidable task piecing together the often-obscure and many times incomplete life stories of these selected lawmen. This is not an easy task. Historical records relating to Texas Rangers are frequently spotty and incomplete for a variety of reasons. Some were lost to fire or other calamity while others curiously somehow vanished from state archives, county courthouses and other repositories. These Rangers commonly moved from job to job inside and outside law enforcement seldom staying in one location or position for long periods. Pay was low, hardship plentiful and life threatening danger a constant factor.
Alexander's Rangers met death in a variety of ways ranging from accident to ambush with a surprising number being the result of inexperience and the absence of modern tactical training. Early day Rangers had to learn law enforcement mostly by performing the job and sometimes this in itself proved deadly particularly on the Texas-Mexican border. An example of this was the 1890 death of Texas Ranger Private John H. Gravis in Presidio County. Gravis had been a Ranger for about five months when he and a deputy sheriff got into a gunfight in the rowdy silver mining town of Shafter. The young Ranger lost his life after being shot in the head. While conflicting accounts cloud the details Alexander pointedly summed up the tragedy by writing "On the Texas/Mexican border rookies were but the raw meat of the devil". Another example emerged with the death of Ranger Robert E. Doaty some two years later. Doaty had been a Ranger for only twenty-two days when he met death in another border shoot out. The same is true for Eugene B. Hulen killed in Presidio County in 1915 after being a Ranger forfifty-seven days.
Although the author's wordy writing style might burden some, Alexander does offer the dedicated reader an insight infrequently found in the innumerable volumes of Texas Ranger history. The author avoids the Texas Ranger mythology pitfalls of Walter Prescott Webb and others painting a realistic and sometimes gritty picture of these lawmen as they met their end. There are no stereotypes present in these stories. In a lengthy two-part introduction Alexander lays out his premise in which he acknowledges the wrongs and abuses of some pre-modern era Rangers. He traces the evolution of the Texas Rangers from their early days as Indian and bandit fighters and gunmen to today's lawmen through advancements in transportation, tactics and technology. While Alexander promises, "no white washing" in his effort he does somewhat subjectively present the lawman's point of view relegating divergent analysis to being somehow less than creditable. While Alexander seems to disdain the work of agenda driven scholars and those he considers to be "armchair historians", he does not hesitate to make use of such research.
No one doubts that law enforcement on the Texas-Mexican border is and always has been a very risky but necessary profession. It is also controversial mostly during the bloody years of the Mexican Revolution. This book will probably appeal more to Texas Ranger enthusiasts and less to those persuaded by revisionist views. However, it is an insightful work deserving consideration by all. These Rangers who gave their lives certainly merit inclusion in the pages of history. How and why they died is a worthy topic for reflection. Alexander's effort is to be commended. As Louis R. Sadler put it "This is Bob's best book to date" and it is.
"Riding Lucifer's Line: Ranger Deaths Along the Texas-Mexican Border". By Bob Alexander. Denton: University of North Texas Press, 2013. Pp. xxvi, 404. Photographs. Notes. Bibliography. Index. $29.95 cloth.
Glenn Justice
Used with contractual permission of
"The Americas: A Quarterly Review of Inter-American Cultural History"
Copyright 2014
[ view entry ]
( 3791 views ) |
permalink
|





( 3 / 11655 )
---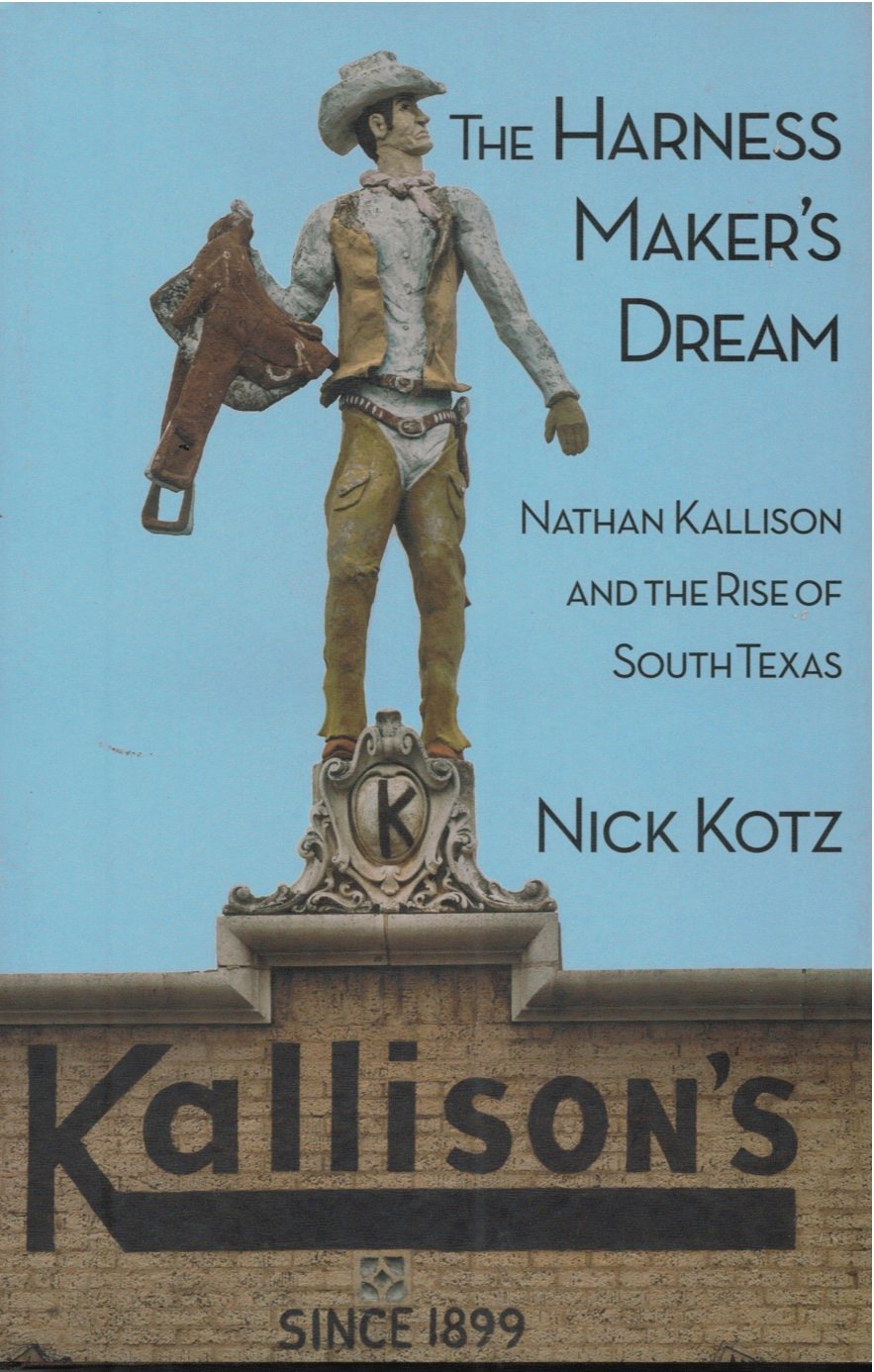 Nick Kotz ' latest book "The Harness Maker's Dream: Nathan Kallison and the Rise of South Texas" is a well-written and carefully researched piece of Texas history. Kotz tells the story of his uncle, Nathan Allison, born in the Ukrane, who left his native homeland and braved considerable odds to come to the United States in 1890. Living for a time in Chicago the young man married, started learning English and took up harness making. In 1899, Kallison moved his wife and family to San Antonio where he set up a one-room leather goods shop. The venture eventually grew into one of the largest farm and ranch supply businesses in the state.
The Harness Makers Dream is not just a history of a sucessful businessman. Nathan Allison was Jewish and Kotz's book details the struggles of Jewish immigrants in Texas as well as their contributions to society and the economy. San Antonio born author Nick Kotz has penned a number of books and some years back won the Pulitzer Prize for his newspaper reporting. He is perhaps best known for a 2005 book: "Judgment Days: Lyndon Baines Johnson, Martin Luther King Jr., and the Laws That Changed America". The Harness Maker's dream is published by TCU Press, ISBN: 978-0-87565-567-3.
Gj
[ view entry ]
( 3399 views ) |
permalink
|





( 3 / 10592 )
---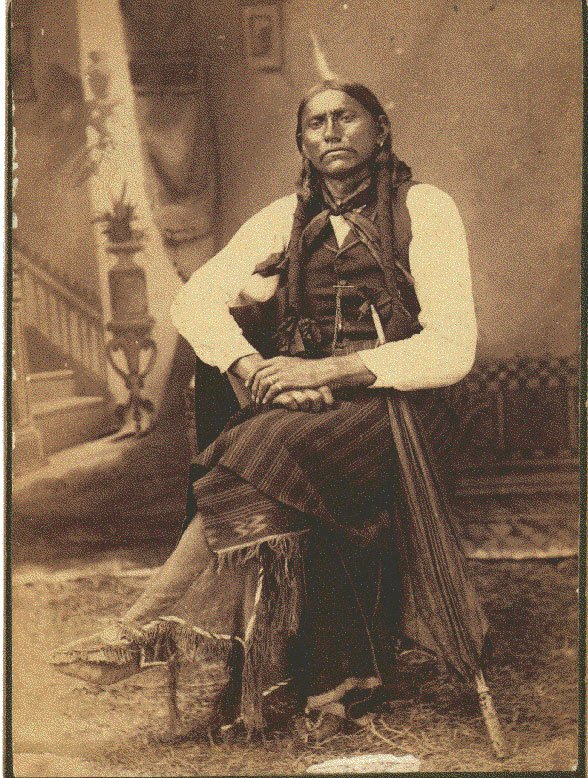 According to Fort Davis historian Barry Scobee, Comanche Chief Quanah Parker showed up in Fort Davis in the last part of the nineteenth century. As Quanah put it, he came in search of "the gift-of-God cactus to lighten the Red man's burden". Accompanied by Chief Rising Star and several other dignitaries from the Indian Territory, Chief Quanah arrived at the Lempert Hotel much to the astonishment of a Miss Finck who presumably worked at the desk. Scobee described this most unusual occurrence. "Miss Finck heard a knock at the door and was somewhat startled to see three heap big Indians standing there in stately silence". Mr. Fox, an Indian agent accompanying the party, stepped forward explaining that the chief and his two traveling companions came on a peaceful mission simply wishing to obtain bed and board while they searched for peyote somewhere in vicinity of Mitre Peak. Quanah apparently told the Indian agent that Comanche traditions taught the wonderful cactus could not be found in any other locality.
While Scobee's intriguing glimpse into the past ends there, there is more to the story, much more. Chief Quanah Parker likely knew the Texas Big Bend a lot better than most folks today might expect. Born about 1850 probably near Elk Creek near the Wichita Mountains of today's Oklahoma, Quanah rose to become the principal Comanche leader during and after the Texas Panhandle Red River War. Quanah's mother, a white woman of Scotch-Irish extraction taken captive at the age of nine years from Fort Parker, Texas in 1836 is Cynthia Ann Parker. Her story became immortalized in the dark but classic John Wayne movie The Searchers. Quanah came from an impressive line of Comanche chieftains including his father, Peta Nocona, who Quanah said, died of complications from wounds received during a fight with the Apache. Iron Jacket, Quanah's grandfather, got his name because he wore a Spanish coat of mail in battle. Comanche legend has it that Iron Jacket had the ability to blow threatening bullets away from him with his breath.
Following the death of his father, Chief Wild Horse of the Destanyuka band took the ten year old Quanah Parker under his wing teaching the boy the warrior ways of the Comanche. It is not clear at what point the Comanche first used peyote in shamanistic ceremonies. According to anthropologist Dr. Omar C. Stewart who is considered to be an expert in the study of peyote use by Native Americans, the Comanche probably first learned about peyote during their raids to steal horses as they traveled on the Comanche trail across west Texas into Chihuahua. It is here that the young Quanah most likely first encountered the magical cactus.
While Quanah Parker cannot be credited with introducing peyote to his people he became, according to Stewart, "the most important Comanche roadman in the early history of peyotism". Long before the arrival of the Comanche, the Native Americans of Mexico including the Tarahumara knew of the power of peyote as a natural medicinal drug. Christian Tarahumaras also associated peyote with their faith. They also applied it to snake bites, wounds, and burns, and thought it cured cure rheumatism. But its power went beyond that. The Tarahumara believed if a man carried peyote on his person that bears could not bite them or deer run away, that game would become tame and easy to kill. During the early 1700's Chihuahua experienced a considerable number of Spanish Inquisition investigations into the possession and use of Peyote.
U. S. Army Captain Valery Havard, a surgeon stationed in the 1880's near Presidio became one of the first Anglo physicians to describe the use of peyote and mescal beans in the Big Bend. He noted the beautiful flower produced by the peyote cactus and its presence in most Mexican houses. Although Havard said peyote is mostly an intoxicant he thought it to be good for the relief of fever. The good doctor also pointed out that if one chewed the magical cactus a "delirious exhilaration" could be experienced and that peyote in those days was known as "dry whiskey".
Quanna liked his peyote for more than one reason. In 1896 an observer saw him sit up all night during a peyote ceremony and eat thirty buttons. The following morning Quanna seemed unaffected and alert. He once sent a roadman to Mexico to obtain 8,000 buttons. Perhaps the chief summed it up best when he said, "The White man goes to his church and talks about Jesus. The Indian goes to his tipi and talks with Jesus." Perhaps Quanah became a believer in the power of peyote when he went to visit his brother John Parker in Chihuahua about 1885. Previously he opposed the use of peyote. During the visit a Spanish bull is said to have somehow attacked the great chief leaving him with a terrible wound that resulted in a bad case of blood poisoning and fever. Other accounts state that Quanah only contracted some sort of stomach disorder. Whatever the case, a shaman mixed him a strong potion made from peyote juice and he recovered. Apparently Quanah believed the concoction cured him because after that time he became an ardent supporter of the use of peyote.
As a whole, the Comanche and Quanah in particular never really had much confidence the Ghost Dance Movement of 1890. Quanah respected the white man's religion but when told by the U. S. Secretary of the Interior that he must give up all of his wives except one and he had three, the great chief replied "Mr. Secretary you tell them". Multiple wifes and peyote were two things Chief Quanah never compromised. He became a quite successful businessman making money in cattle and land. But even in his last days took an active part in peyote ceremonies described the Half Moon ceremony or the Quanah Parker Way.
Quanah Parker died in 1911 but not long before his death C. S. Simmons observed the great chief conduct a peyote ceremony at his home outside Lawton, Oklahoma. "At about three o'clock in the morning, the silent hour and the time of the greatest manifestation of power, Quanah, the leader, knelt before the altar and prayed earnestly. Then, taking the eagle feathers in both hands, he arose to his feet. I saw at once he was under great inspiration. His whole personality seemed to change. His eyes glowed with a strong light and his body swayed to and fro, vibrating with some powerful emotion. Has sang the beautiful song "Ya-na-ah-away" in a most grand and inspiring manner. Then all sang together in harmony. They prayed to God and Jesus and sang of a "narrow way".
Glenn Justice
Note: Larry Francell tells me that when Quanah Parker came to Fort Davis the chief stayed at the Lempert Hotel not the Limpia Hotel. The present day Limpia Hotel was not constructed until 1912. In the 1880's an earlier Limpia Hotel did operate near the fort but this is not where Quanah stayed according to Larry. The old Lempert Hotel is today the Veranda Bed and Bed and Breakfast. Thanks for the info Larry!
Gj
[ view entry ]
( 4818 views ) |
permalink
|





( 3 / 4007 )
---
In 1897 Andrew Prude purchased three sections of land located not far from Fort Davis establishing the A. G. Prude Ranch. Soon he and his wife Ora moved into a small log cabin on their new property. In 1900 Andrew completed a wooden frame house for his family and in 1902 added 1257 acres to the ranch. In 1911 Andrew built a two story ranch house made of adobe bricks cast in a nearby stock tank. They called it the "Big House". By 1920 Prude expanded his ranch to some forty sections of land which comprised a considerable amount of Jeff Davis County.
In 1921 the Prude Ranch started a guest ranch to share the beauty of the land and cool summer weather of the Davis Mountains with city dwellers from across Texas. Early guests arrived on the Southern Pacific Railroad at Alpine and made their way to the ranch by various means. When a terrible drought and the Great Depression of the 1930's forced Andrew Prude to sell his cattle and most of his land, the Prude family decided to operate the guest ranch full time. Soon a new highway near the ranch came into existence and more and more guests began to show up. New guest houses were built as well as a coaching school. The dude ranch program was expanded to include summer camps for boys and girls and various educational programs. The facilities have expanded over the years to accommodate a wide variety of activities. Prude ranch is well known across Texas as a popular tourist destination and continues into the second century of operation.
How the ranch came into existence and continues to operate today after all these years is a fascinating story of determination and survival. Historian Glenn Justice used many primary sources and oral interviews to tell the story of this now famous Texas ranch.
Cattle and Dudes: A Family History of the Prude Ranch 1897-1997 is now available on Amazon as an E-book. For more information or to order go to:
http://www.amazon.com/Cattle-Dudes-Fami ... le%26dudes
[ view entry ]
( 3687 views ) |
permalink
|





( 3 / 7546 )
---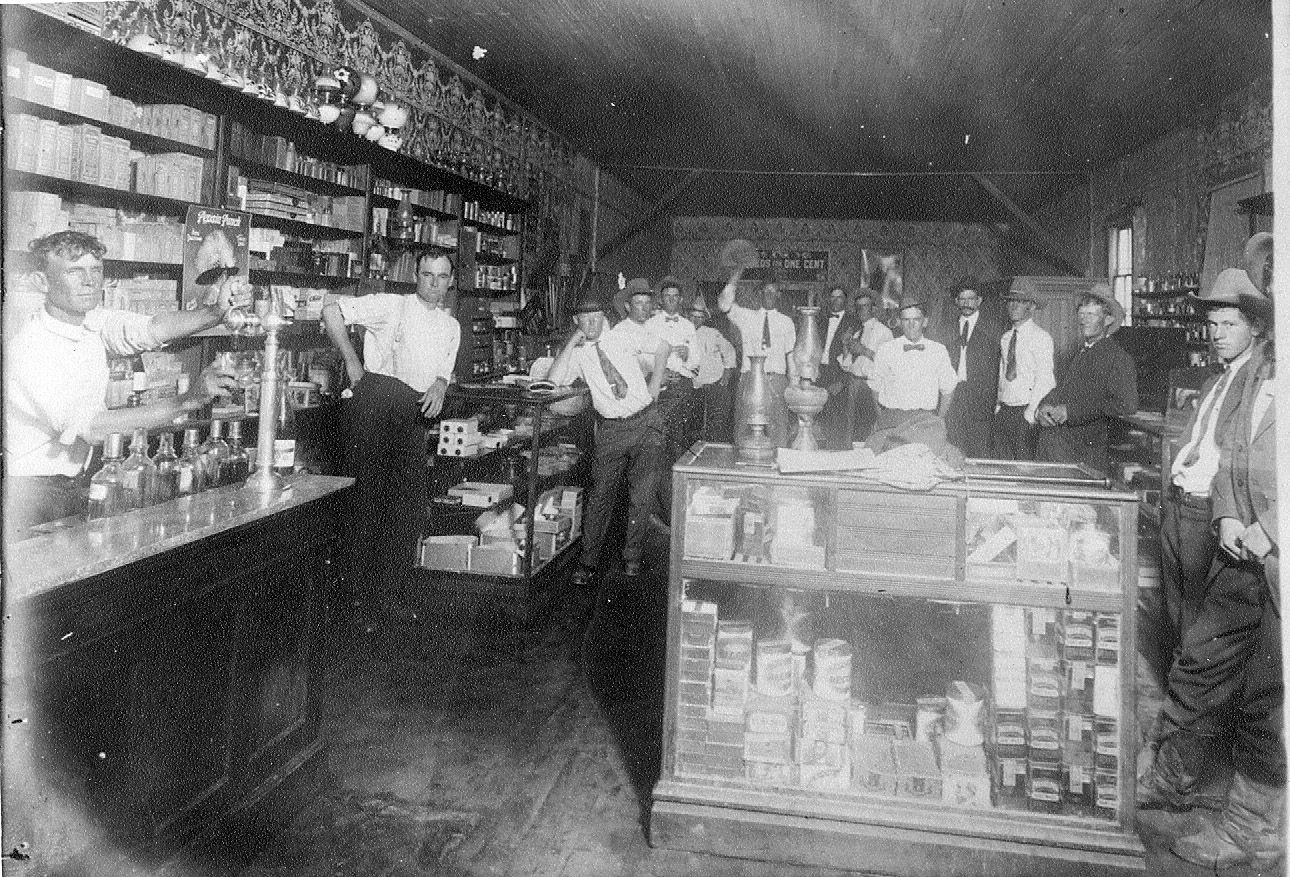 David Dorward arrived in Borden County in 1892. He was born December 15, 1872 in Burleson County Texas to David and Anna Dorward. In 1893 David began working as a wagon cook for the Square and Compass Ranch. A year later he went to work for the Magnolia Land and Cattle Company. In 1901 David became a businessman when he opened the Dorward Drug on the courthouse square in Gail, Texas.
Gail was a thriving community in the early 1900's. A week after opening his drug store, he married Minnie Russell who taught school in Gail. To this union came three sons, Russell, Maurice and Kelvin. David did home study for his pharmacist license and had it issued by the Texas Board of Pharmacy on September 17, 1907.
Doward supplied prescriptions for two local physicians, Dr. James Prince and Dr. John H. Hannabass. As the little town began to dwindle in population Doward"s Drug became the meeting place of the community by providing over the counter medicines, refreshments, and even ice for the old time iceboxes of the day. When the local telephone switchboard closed in 1918, Doward's Drug had the only telephone serving Gail and the surrounding farms and ranches until the 1950's. Telephone messages received by Mr. Dorward at the store would be delivered to local residents or to outlying farms and ranches. David Dorward also served by holding the offices of county treasurer and later served as Borden County Judge.
David and Minnie became strong proponents of the Christian faith. David taught adult Sunday school classes for thirty years and Minnie taught classes for over fifty years. Their dedication left a legacy to the residents of Borden County. After their passing, the Doward Drug building went through many years of neglect until 2012 when R. D. "Buster" and Jean Creighton Taylor acquired the property. Much back breaking work ensued hauling away junk that had accumulated around the property. Jean and Buster were able to salvage the original walls, ceiling, shelving, soda machine and safe from eventual destruction. The pharmacy counter and samples of medicines and many other Dorward treasures may be viewed at the Borden County Museum.
The dedication of the Dorward Drug historical marker will take place on Saturday, June 21 at 2 p.m. in Gail A reception will follow at the Borden County Event Center. For more information contact Lisa Mahler at:
bordencohistory@gmail.com
Lisa Mahler
[ view entry ]
( 3996 views ) |
permalink
|





( 3.1 / 6354 )
---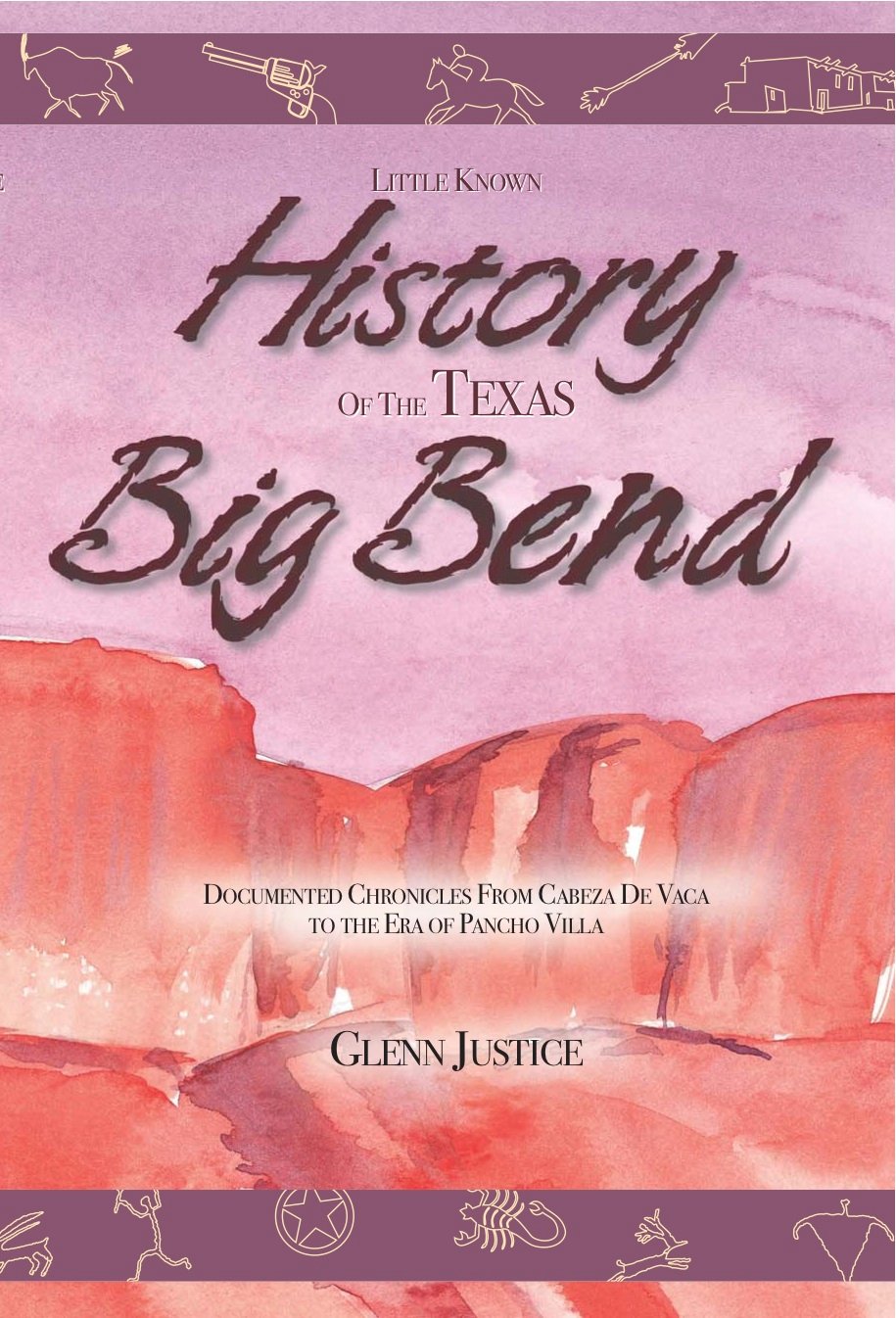 I am most pleased to announce my book "Little Known History Of The Texas Big Bend: Documented Chronicles From Cabeza De Vaca To The Era Of Pancho Villa" is now available in an E-Book edition at Amazon.
For more information go to:
http://www.amazon.com/Little-Known-Hist ... e+big+bend
Additional Amazon E-Book titles from Rimrock Press are coming soon!
Gj
[ view entry ]
( 3727 views ) |
permalink
|





( 3 / 9605 )
---
Most find their way to the blog via Google although there is quite a list of search engines that have been used. A fair number of the readers access the blog with their smart phones something I never dreamed about ten years ago. Recently my internet guru Mike Middleton updated the blog software and I have a feeling he had something to do with the recent upsurge. I cannot thank Mike enough for all of his fine work through the years. Anyone needing a really first class web page design and IT work can contact Mike at:
Austin-12@att.net
.
Gj
[ view entry ]
( 15156 views ) |
permalink
|





( 3 / 83135 )
---
I thought your readers might be interested in the Texas Historical Marker App for the iPhone. The Texas Historical Landmarks app gives you access to detailed historical information to over 14,000 historical markers designated by the Texas Historical Commission.
We built this app because when driving through Texas, I always wondered what a historical marker on the side of the road said, I didn't always have time to stop and look at each marker. We decided to build this app to answer that question and to help educate people about our state's rich history.
The app provides an easy to use map interface that allows you to pinpoint what historical markers are close to you, retrieve driving directions to each marker, keep a tally of the markers you have visited, and even record photos at each visited marker. While traveling, you even have the ability to receive notifications anytime you are closing in on a landmark.
Texas Historical Landmarks is currently available in the app store at:
https://itunes.apple.com/us/app/texas-historical-landmarks/id598634992?mt=8
(there is a free version available with less data if you want to play)
To learn more about the app including screen shots, features, and video see here:
http://atomicaxis.com/company/texas-landmarks/
[ view entry ]
( 14995 views ) |
permalink
|





( 3 / 19493 )
---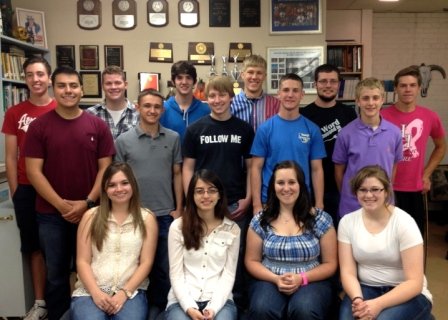 Dear Friends and Members of the West Texas Historical Association (WTHA)
It is not often that we have news that needs to be sent forward by itself owing to its importance. Many of us who love history and are involved in this association and others like it occasionally rue the seemingly diminished awareness of history. However, there is a center of history excellence alive and well in the heartland of West Texas that is incubating and nurturing the love of history in the next generation. Mr. Richard LaMascus a Social Science Teacher at Hereford High School has guided an award winning Special Projects social science program that has exhibited state and national excellence. The WTHA encountered him with his students at a recent Quanah Parker Trail installation where one of them, Matthew Wilhelm, helped organize and raise money for the arrow installation. He is a member of a much larger program that built on the good work of long-time educator and school board member Carolyn Waters.
The current Special Projects program has expanded the horizon of social studies among the high school students in Hereford, Texas. The list of accomplishments are extensive and they include Hereford winning the Texas UIL Team Social Science Championship two of the last four years and one student, Andrew White, took first place this year at State with his Interpretive Web Site--Devils Rope [barbed wire]-- and advanced to the National History Day Competition in College Park Maryland. Mr. LaMascus said that West Texas is a hot-bed for educational excellence, ". . . our region encompassing El Paso to Fort Worth including the entire Texas Panhandle has been the most competitive in the State of Texas."
Congratulations to the students and teachers at Hereford ISD. All of West Texas applauds you. For LaMascus' comments about the Hereford High School Special Projects Social Science program please see the note below.
Best wishes, Tai
Tai Kreidler
Executive Director
West Texas Historical Assn
-------------------------------------------------------------------
E. Richard LaMascus
Hereford high School
Social Studies Department Head
UIL Academic Coach
richardlamascus@herefordisd.net
Thank you for your interest in the History program here at Hereford High School. My name is Richard LaMascus and I am starting my 14th year as a Social Studies Teacher at Hereford High School and my second year as the High School's Social Studies Department Head. One of the first people I met upon moving to Hereford is Carolyn Waters. She has been and continues to be a wonderful teacher/mentor, school board member, and supporter of the History programs in and around Deaf Smith County.Reflecting on the photos taken of last year's Special Topic's History group, I truly did not realize how much we participated in and/or accomplished this past school year. Among the places visited and programs participated in include:
•Museum of the Plains – Perryton TX, Lecture and question and answer session with S.C. Gwynne, Author of "Empire of the Summer Moon".
•Presentations to Hereford's Lion's Club twice, and the Quanah Parker Trail committee.
•Touring the Crosby County Museum, Deaf Smith County Museum, Panhandle Plains Museum, Palo Duro Canyon and Blanco Canyon.
•We visited and toured several Texas Forts including: Fort Phantom Canyon in Abilene, Fort Concho in San Angelo, Fort McKavett outside of Menard TX, and the still being excavated Spanish Presidio along the San Saba River.
•We competed in several different area, state, and national contests including: The Daughters of the American Revolution (DAR) Columbus essay writing contest, and in History Day and UIL Academic competitions in Canyon, Lubbock, Abilene, Austin, and College Park Maryland. Andrew White and I also spent three days touring Washington D.C., Gettysburg PA, and Harpers Ferry WV.
•Eagle Scout Matthew Wilhelm helped organize and raise money for the Quanah Parker Trail Arrows placed in Hereford.
Two years ago, Hereford High School began a Special Topics/Research class aimed at providing an option for but not exclusive to GT students' grades 10 thru 12. The TEKS (Texas Essential Knowledge and Skills) for this class encourage students to research, analyze, and create projects under the Social Studies theme. Simply put, we research analyze and write at a much deeper level than our normal survey classes. We began creating projects for the Texas History Day competition where the requirements for research, annotated bibliographies, and in-depth study fit perfectly with the requirements for this class. The students also study and work towards our UIL Competitions specifically, Current Issues and Events, and Social Studies.
Each of the past two years, Hereford High School has qualified seven to eight students to the Texas History Day competition in Austin Texas. This past May one student, Andrew White, took first place at State with his Interpretive Web Site entitled "The Devil's Rope" advancing to the National History Day Competition in College Park Maryland. His success has inspired many of my Special Topics students to give it their all this upcoming year wanting to equal or surpass what this fine young man accomplished in 2013.
I also have the privilege of coaching our State winning UIL Social Studies Team. We have won almost every competition entered the past seven years. Our accomplishments include:
•Seven straight District Championships and numerous invitational tournament championships.
•Three Regionals Championships where for the past decade, our region encompassing El Paso to Fort Worth including the entire Texas Panhandle has been the most competitive in the State of Texas
•Five straight years qualifying for the UIL State Academic Tournament winning two State Championships in 2010 and 2013.
Our assigned topics varied greatly including the American Revolution, The Supreme Court, Sub-Saharan Africa, American Civil War, US Space Exploration, Latin America, and last year's Native American History. This year's topic may be the most challenging yet, Australia and Oceania; with the assigned book, "Commonwealth of Thieves" the Birth of Australia, by Thomas Keneally. Many top students in Hereford High School will once again compete for one of the final four spots on this great Academic team.
Just a note, over the past decade, Hereford's UIL Social Studies team has included many of our Valedictorians and Salutatorians and numerous others who have gone on to prestigious universities including the Air Force Academy, Notre Dame, Texas A&M, and of course Texas Tech. Five or more students from past teams have entered Texas Tech's Honor's program majoring in Engineering. Student scholarships are far too numerous to count.
http://www.notevenpast.org/websites/devils-rope
Andrew White's Website as discussed in Not Even Past
[ view entry ]
( 16360 views ) |
permalink
|





( 3 / 90152 )
---
The Southwest Collection/Special Collections Library (SWC/SCL) at Texas Tech University announces the availability of the Big Spring Herald online at
http://collections.swco.ttu.edu/.
In a cooperative project between the Howard County Library and the SWC/SCL, the newspaper is available to anyone who has access to the worldwide web. In addition, to the Big Spring Herald, the Big Spring Enterprise from 1908 to 1911 is also available.
Many thanks go to Ms. Hollis McCright, Director of the Howard County Library, Ms. Jennifer Spurrier, Assoc Dean of the SWC/SCL, Ms. Freedonia Paschall, Coordinator of Newspaper Digitization, and Matt McKinney, Director of SWC/SCL IT.For more information on the newspaper digitization project at the Southwest Collection please phone or email the Newspaper Digitization Group at 806-742-3749 and ask for Ms. Freedonia Paschall(Freedonia.paschall@ttu.edu<mailto:Freedonia.paschall@ttu.edu>), Tai Kreidler(tai.kreidler@ttu.edu<mailto:tai.kreidler@ttu.edu>) or Jennifer Spurrier (jenny.spurrier@ttu.edu<mailto:jenny.spurrier@ttu.edu>).
[ view entry ]
( 14014 views ) |
permalink
|





( 3 / 95369 )
---
<<First <Back | 3 | 4 | 5 | 6 | 7 | 8 | 9 | 10 | 11 | 12 | Next> Last>>