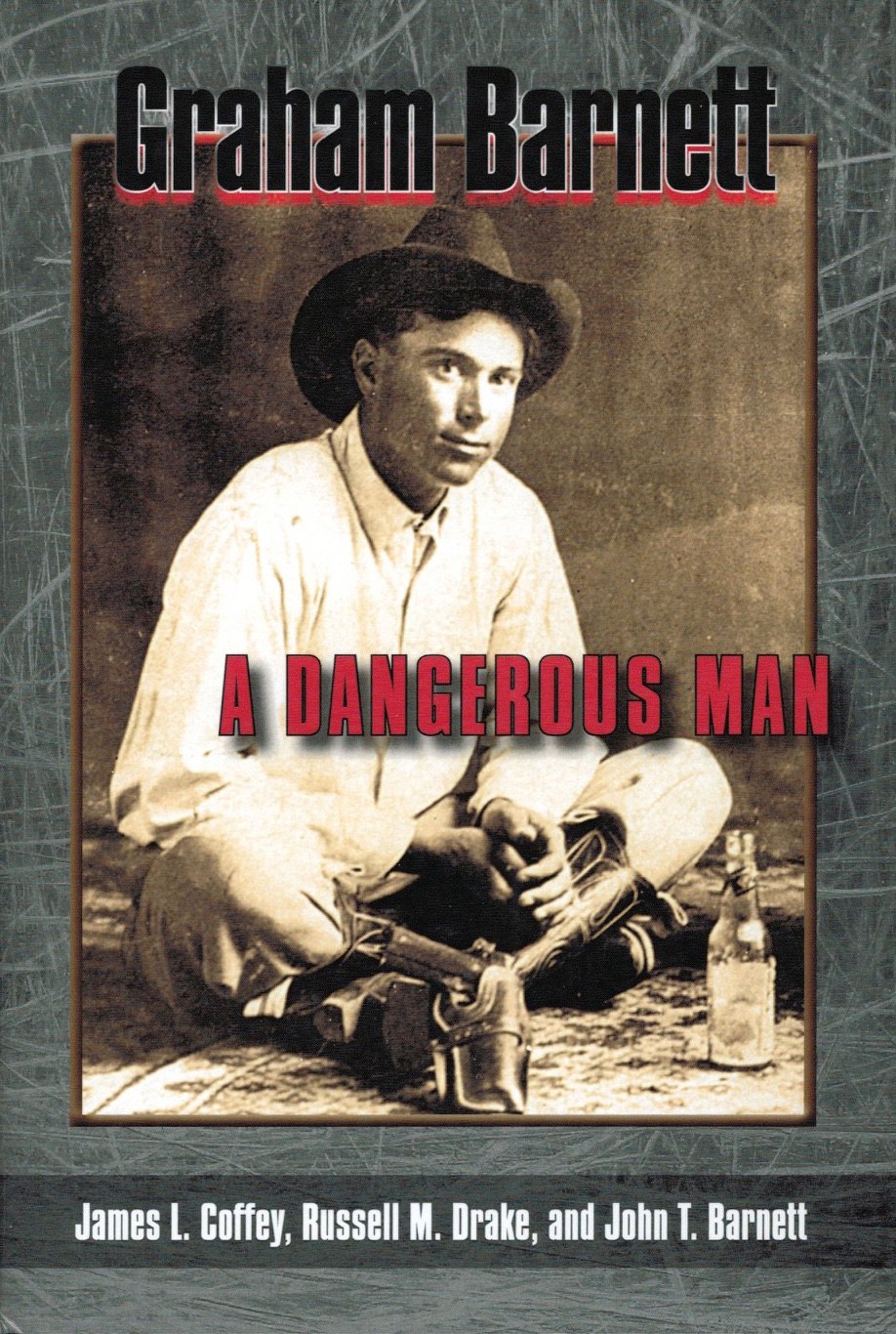 The University of North Texas Press has published a new book titled, "Graham Barnett: A Dangerous Man" written by James L. Coffey, Russell M. Drake and John T. Barnett. This book is the absorbing story of an early twentieth-century west Texas lawman who earned a fearsome reputation as a gunman with a badge by killing a number of men in drunken rages. Barnett was tried and acquitted twice for murder before he met a bad end when Upton County Sheriff Bill Fowler shot him full of holes with a Thompson machine gun at Rankin, Texas in 1931. Born in 1890 Graham began his lawman career when he signed on as a Texas Ranger in the spring of 1916.
He served under Ranger Company B's infamous Captain J. Monroe Fox now forever remembered as the Texas Ranger Captain who ordered the horrific Porvenir massacre in January 1918 during which a group of Company B rangers assisted by Eighth Cavalry troopers of Troop B shot and killed fifteen innocent Hispanic farmers in far northwest Presidio County. The "dangerous man" writers including Graham's own grandson, John Barnett, speculate that Graham did not take part in the massacre. Inexplicably, however, they disclose to their readers that Graham's own brother, Boog, also a Texas Ranger in Company B during those years, claimed that "he and Graham were both present" at the massacre. No reference is cited in this curious admission however the writers incorrectly state that the massacre happened in December 1917. The Porvenir massacre did not occur in December 1917 but actually went down in the early morning hours of January 28, 1918. Having researched the massacre for many years I have to agree with the "Dangerous Man" creators that previously I have not found Graham or Boog Barnett's names associated with the massacre but because of this odd admission I must add it to my list of possibilities and keep looking. With reference to the authors claim "That sounds like something ole' Graham Barnett would do", I whole heartily agree.
Overall, "Graham Barnett: A Dangerous Man" is a very good historical study in addition to being a most interesting and readable work. It finely details the life of one of the more prominent Texas Ranger gunman who emerged in the early twentieth century. Also, this book is an interesting look at how west Texas law enforcement changed and evolved as the Texas oil industry first brought prosperity to the state and its people. I highly recommend this book to anyone interested in Texas history.
Glenn Justice
---
Comments
Add Comment
Comments are not available for this entry.
---