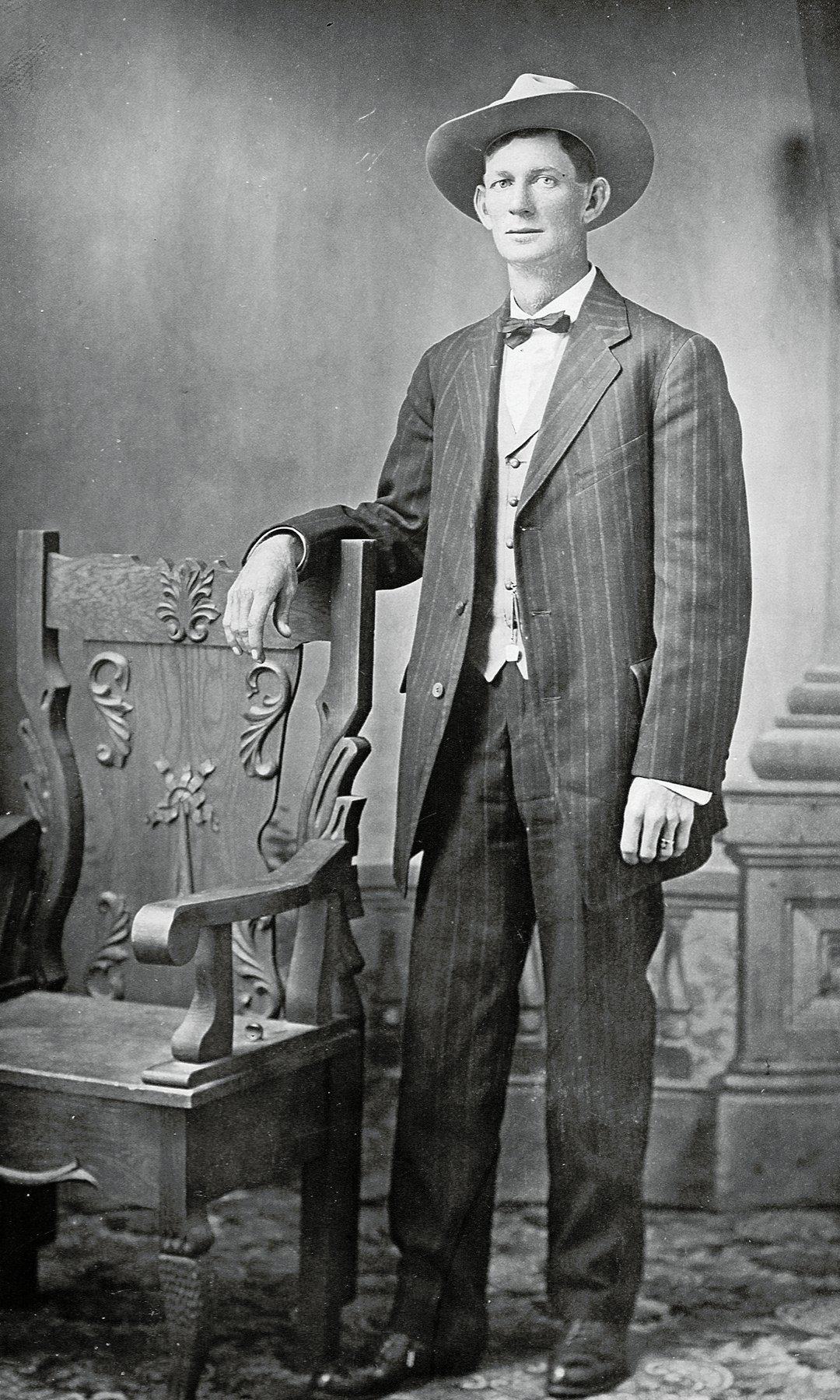 Summary
Unbridled Cowboy is a riveting firsthand account of a defiant hell-raiser in the wild and tumultuous American Southwest in the late 1800s. At the age of fourteen, Joe Fussell hopped trains to escape from school and the authority he scorned. Joe became a roving cowpuncher across the Texas territory, tilling the land, wrangling cattle, and working in livery stables, moving on whenever his feet began to itch. In a time and place with no law, the young cowboy exacted revenge on those who trespassed him or those who abused authority. Joe recounts tales of cowboy adventures, narrow escapes, and undercover work as a Texas Ranger and life on the railroads. A spark of his wild cowboy spirit remained even after he went to work on the railroads and rose to the position of yardmaster.
Joe's unadorned prose is as exposed and simple as the wide open Texas plains. His unpretentious, unique voice embodies the spirit of the old West.
While making preparations to break camp one afternoon a couple of young Mexicans we knew (they were fellow employees) showed up at our camp, ate dinner with us and extended a pressing invitation to a baile, a dance, to be held in the nearby pueblo that night. I did not want to go because I knew Mexicans had no love for gringos in general and for Texans in particular. And I figured they thought we might create trouble by blaming them for slaughtering cattle that belonged to our outfit. I was afraid they were setting a trap wed be walking into and end up murdered.
I told Art I did not want to go and tried to persuade him against the idea. I told him how I felt about the whole thing, the dangers of exciting the jealousies of both sexes, and the ease with which they could kill us both, bury our bodies and make sure no report of their crimes would reach the ears of our boss. But he insisted on going and having a whirl with the senoritas. We postponed moving camp, and over my protest, went to the baile. I went because I didn't want him to go alone.
After we ate at the camp fire, we saddled fresh horses and rode forth in our work clothes - chaps, boots, spurs and six-shooters inside our shirts Art, the trouble hunting "Don Quixote" and me, his "Sancho Panza", the simple and faithful.
We arrived at the baile and acting on my suggestion left our horses in a secluded spot apart from all the other horses and entered the hall which, as I remember, was a room about twenty feet square. The young men who had extended the invitation made themselves most agreeable, introducing us as their guests and seemed overly anxious to have us enjoy ourselves to the utmost. Art entered into the spirit of the festivities whole-heartedly and immediately started a flirtation with a very attractive senorita. Suspicious of a trap, I warned him, a time or two, against any indiscrete act.
He ignored my warnings and monopolized the time of the coquettish senorita. I soon noticed trouble brewing and, at the first opportunity again warned him and suggested we depart for camp. Again he spurned my warning saying he would show the "chili pickers" a few tricks in lovemaking and make them like it.
Knowing the storm was about to break I put my back near the only entrance to the hall and waited. It wasn't long. After a dance Art escorted his lady to a seat. As he turned away, a young man approached him and began a conversation, while another stepped in behind Art and reached in his sash for a stiletto.
I pulled out my six-shooter and called to Art to look out behind him. He jumped aside, pulling his six-shooter and faced his antagonist whose arm was raised ready to strike Art in the back. Art shot the Mexican twice.
Reviews
"[O]ne of the most compelling memoirs I have ever read." I had come to like the old rascal by the end of the book.[A]powerful ending. Mike Cox, author of The Texas Rangers: Wearing the Cinco Peso, 1821-1900
"Arguably, this is one of the finest personal reminiscences of life in the American West". riveting Alfred Runte, author of Allies of the Earth: Railroads and the Soul of Preservation
Author's Biography
E. R. Fussell was born in Peru to American citizens and moved back to the United States at the age of five. He received his law degree from Loyola Law School in Los Angeles and began practicing law in California. Since 1972, he has practiced law in his hometown of LeRoy, New York.
Joseph B. Fussell was born in Tyler, Texas, in 1879, the son of a cowboy and buffalo hunter. Fussell trekked most of the Southwest and worked as a cowboy, livery stable operator, and at other jobs. When he was a ranch hand in northern Mexico, he barely escaped the fate of his American friend who died at the bottom of a well. Fussell worked as an undercover Texas ranger before beginning his railroad career. With little formal training, Fussell wrote his riveting memoir about real life in the West at the turn of the century. He died in 1957.
---
Comments
Add Comment
Comments are not available for this entry.
---